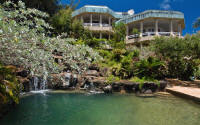 Beautifully designed by architect Fritz Johnson, this elegant approximately 16,000 square foot home was built for fun and entertaining, while maintaining practical functionality and a formal appearance. Private, quiet and secure, the serenity of the estate's location is profound and allows the home to exude an ambiance of living without neighbors. Enjoy your own five-star resort at the top of the ridge overlooking Honolulu.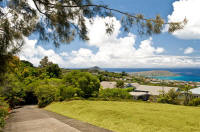 The experience of the estate begins as you enter the front gate and follow the private driveway to the porte cochere. Oahu's majestic Ko'olau mountain range stands to your right as the beauty of the southeast Oahu coastline unfolds to your left. From this location it is common to see the off shore islands of Molokai, Maui and Lanai above the horizon line at Koko Head.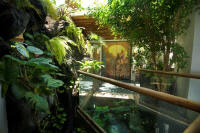 Upon reaching the home, you are initially welcomed by a soothing waterfall and pond filled with beautiful water lilies and show quality koi. Amazement awaits as you enter! …Designed by acclaimed landscape architect, John Groark, you are greeted by a dramatic three-story waterfall and koi pond. This waterfall is a central focus of the home and ties the many levels together. Often times, visitors are taken aback when crossing over the glass bridge that spans the waterfall and pond. This striking feature allows the guest to experience the magnitude and grandeur of the waterfall without any obstructions.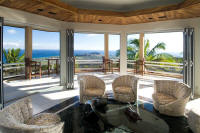 Breathtaking views of Diamond Head, Waikiki, and Kahala beckon one to enter the home and admire these world renowned sites. One will quickly appreciate the uniqueness of this location as the views of east, south, and west Oahu emerge. Very few properties have the opportunity of being positioned in an area that provides such a scope of views. …This is easily one of the best residential views on the Island and perhaps even in the State of Hawaii.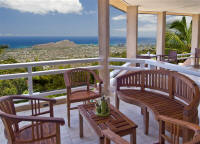 In proper island fashion, the indoor/ outdoor way of life is embraced at this mountaintop retreat. Various living areas open to the outdoors and provide flexible entertaining spaces throughout the home. This is the place to be when throwing a fantastic pool party, hosting a formal social event, or just stopping by for an intimate family dinner.

With 29 rooms, including seven bedrooms, eight and one half baths, as well as many specialty rooms, this home has it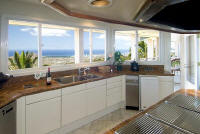 all! Each room was designed to frame a different view and everywhere you go, there is something new and exciting to see and experience. Among the many notable features of the home are: A gourmet kitchen to please even the fussiest of chefs; a family room complete with Koa wood dance floor, fireplace and adjacent wet bar; two master suites; a large executive office; an air conditioned movie theater with a 10 foot screen and plush tiered seating; a gym/ game room for exercise or entertainment; a sauna and steam bath to relax and unwind; a hydraulic three-story elevator; a spacious five-car garage; various storage areas; and so much more. The home also boasts an impressive use of marble, copper, and prized Hawaiian Koa wood throughout.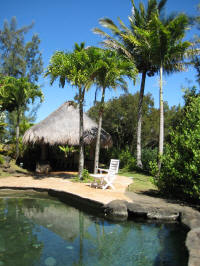 In addition to these many luxuries, the emergency features in this home far exceed those found in a typical residence. Such features include an automatic back up generator – for power outages, automatic fire sprinklers, and approximately 1,300 gallons of stored extra water – in case of unforeseen emergencies.

It is not surprising that the opulence of the home is matched only by the splendor of the grounds... Near the serene valley viewing area and master wing of the house, a stream emerges and gracefully flows down the hillside, slowly developing into an intricate waterfall that accents the upper and lower pools. You will enjoy a grotto-like spa with natural pebble bottom that is tucked away for privacy and seclusion near the pool's edge and fire pit. Whether you have a desire to jump off the rocks of the waterfall into the pool, lounge behind the falling water, or float in the tropical oasis setting, the pools playfully wait to fulfill your every whim. Be sure to take a ride down the water slide! ...From the upper to lower pool, this inviting slide will take you for an exhilarating ride and will conveniently drop you off near your Fijian style grass shack. There is no better place to treat yourself to a relaxing lunch than under a grass shack with cool mountain breezes passing by.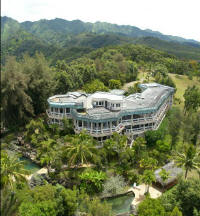 Admire the spectacular views, hike the tranquil mountain range, relax at your private pool oasis, and enjoy island living at its finest! There is so much to experience at this private luxury estate! Words and pictures cannot begin to describe this one-of-a-kind property.